Our newsletters are dedicated to the discussion of waterfalls of Wisconsin... searching for new waterfalls not yet documented, and discussing new interesting details about ones already known. Our website at www.waterfallswisconsin.com has documented 185 waterfalls in Wisconsin but there is still a lot to learn about their details; and there are more waterfalls to be found and documented.
It's still too cold and too much snow in places to hit the trails to locate and photograph new waterfalls but we have discovered some new places that need investigating. We have been spending some time in Sparta, Wisconsin attempting to determine the location of several waterfalls. We have seen several pictures of several falls, but we have minimal information about their exact location.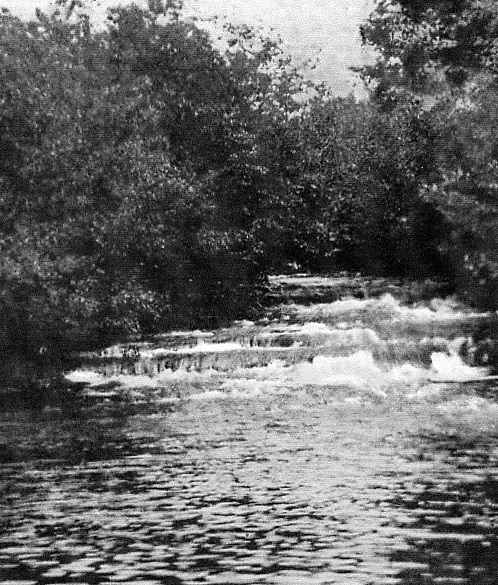 Shown above is Tar Falls... the picture shown here is from an old postcard that labels it Tar Falls near Sparta, Wisconsin but that is all we have for a location. The Wisconsin Historical Society also has a post-card picture of the falls that is quite similar and it also states the falls are near Sparta, Wisconsin. Searching on Internet we found a location named "Tar Valley" that is located about 2.7 miles North NorthWest of Tunnel City. Further research on USGS maps show that the Valley is named Tarr Valley and runs the entire length of Tarr Creek, so it is north as shown on Internet, then runs Southwest all the way to its intersection with Sparta Creek. Tunnel City is on Route 21 just northwest of Tomah, Wisconsin and just East of Fort McCoy. We talked with people at the Monroe County Local History Room & Museum and they told us about Tarr Creek which is just West Northwest of Tunnel City (notice that the name is spelled Tarr as opposed to Tar Falls as shown on the postcard). To add a little more confusion we found a 1887 map of Monroe County that labels the creek as Tarrs Creek (another different spelling). We found another map dated 1858 and the creek shown is not named. An interesting area on the 1887 map is labeled McCoil's Mill... most mills of that era were powered by water wheels; so it is very possible that Tar (or Tarr or Tarrs) Falls is near that spot. The mill was located at the intersection of Tarrs Creek and Sparta Creek 7 miles west of Tunnel City. The 1858 map also shows the mill at the same location and it is named L. A. Farr's Mills (cannot be sure that is the name of the mill... it could just be a landowner's name adjacent to the mill). So, now we add Farr to the Tar, Tarr, Tarrs confusion. The big problem is that this mill is located on what is now Fort McCoy property and it is doubtful access is available. When the weather get a bit better we will visit the area to see if we can get any access to the area, or maybe upstream outside the Fort McCoy area. In the meantime, if anyone has more definitive information about Tar Falls and where it is located please send us an Email.
Our next newsletter will discuss several other waterfalls in the Sparta area that are yet to be found and photographed. Stay tuned!
Regards to everyone and Happy Waterfalling!
Bob Schneider